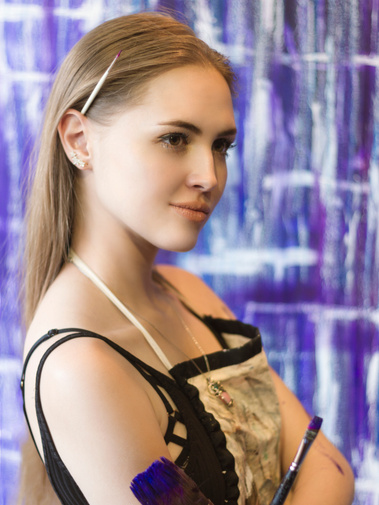 Geraldine Csapek is an Illustrator/Designer, with both nationalities from Bolivia and Germany. She is a graduate of the Savannah College of Art and Design, with a Bachelor's degree in Illustration and Communication Arts with a minor in Painting. Her work is focused in a variety of market fields, such as: children´s books, textile, character, card, and package design, portraits and so on.
For more background information on Geraldine and her work, regarding employment or freelance opportunities, or to just say hello, feel free to get in touch.
"My ultimate goal is to show work I would want to see, to create work that may change someone's perspective, make them think, to smile for a couple of seconds, and agree means I have succeeded with the piece."
Geraldine Csapek
Geraldine Csapek nacida en La Paz, Bolivia, es licenciada en Pintura e Ilustración, graduada con honores de la reconocida Universidad de Savannah College of Art and Design en Savannah, GA. Su trabajo está enfocado en varios campos del mundo del arte, entre esos, pintura en óleos, acrílicos, acuarelas, dibujo al carbón, diseño de libros, diseño de paquetería, personajes en caricaturas, diseño para textiles, tarjetas, postales, juguetes y porta retratos entre otros. Exposiciones en el extranjero de ilustración, libros para niños y pinturas.
Para obtener más información sobre Geraldine y su trabajo, sobre oportunidades de empleo o autónomos, o simplemente para saludar, no dude en ponerse en contacto.
"Mi meta final es crear arte y así poder cambiar la perspectiva de las personas, hacerlos pensar y provocarles una sonrisa, así sea por unos pocos segundos, lo que significaría que cumplí con mi propósito y tuve éxito con mi trabajo."

Geraldine Csapek